Great! Repeated Orders from Overseas Customers-40 Plus LPG Tankers Contracted at One Time, Second Batch to be Delivered
2020-12-09 45
As the Chinese saying goes, we are not afraid of wind, rain and snow at the end of the year.How can we wait till spring if we don't build up our strength in winter.
On December 9, despite the cold weather, there was a busy scene in Hongtu Company's delivery yard. 19 brand- new liquefied gas tankers were in the final inspection and commissioning; they were ready to be delivered to the port once the temporary license was issued.
The buyer of this batch of products is a very influential oil company in South East Asia and a regular customer of Hongtu. The contract includes more than 40 units of LPG tankers delivered in batches. The 19 units is the second batch to be delivered. The semitrailers was designed and fabricated as per ASME code with high specification and requirements. The customer attaches great importance to the experience of use. A large number of new functions and requirements were added based on the first batch of 15 units, while the delivery time was not changed, which posed a great challenge to Hongtu's technology and production. To meet the customer's needs to the greatest extent, all the relative departments of the company join in hands to explore the best solution and finally make the delivery on schedule!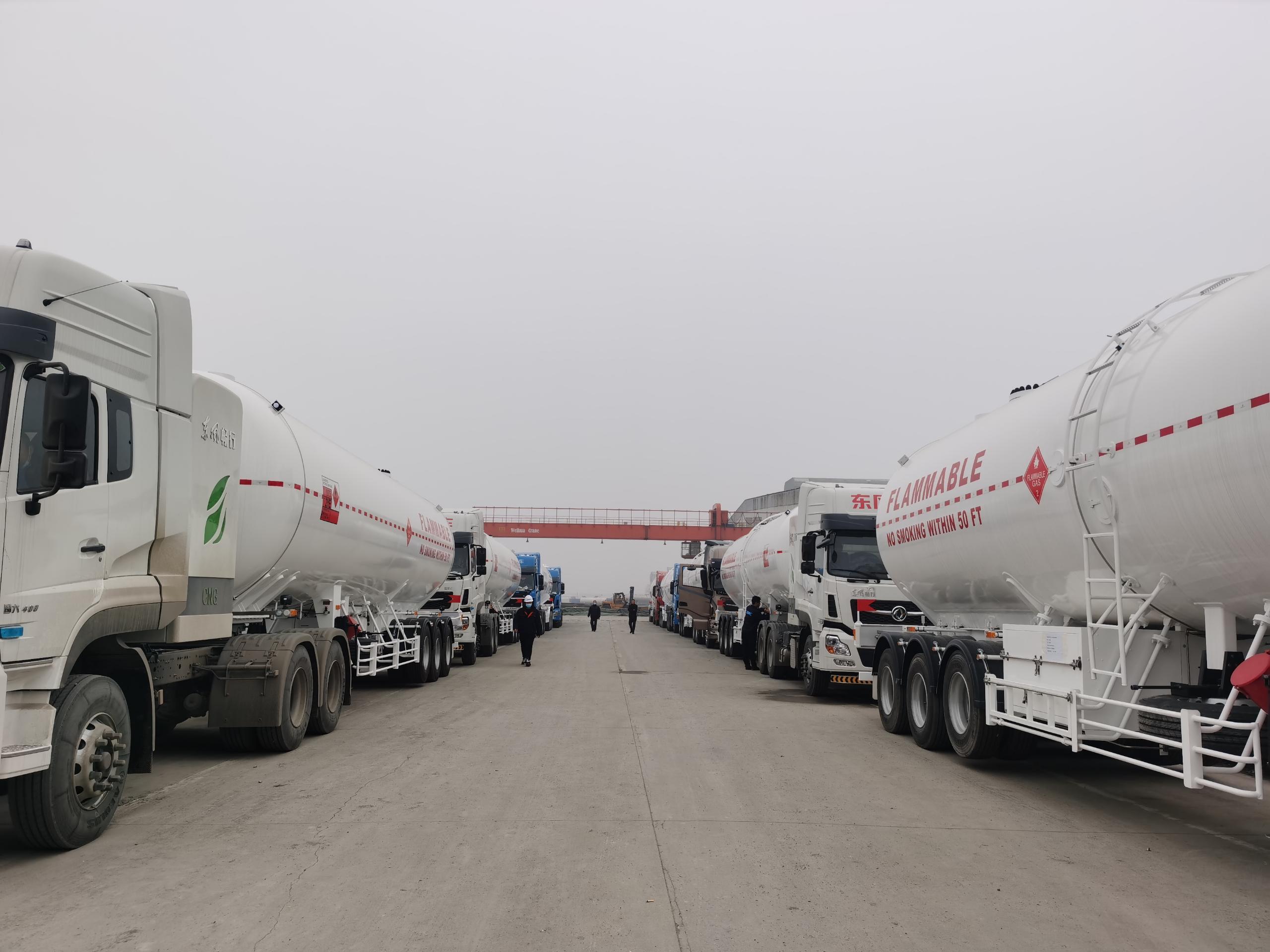 The year 2020 sees the setbacks and changes in many industries. The COVID-19 almost changes everybody's life. Due to the outbreak of the COVID-19 at the beginning of the year, many countries in the world have taken countermeasures.There is no exception to Southeast Asia countries. They have implemented strict lowdown to prevent the spread of the epidemic, which seriously affects the normal international trade and economic exchanges.This year brings the trade exports life and death challenge. Due to the COVID-19, the industry's export volume drops dramatically and many companies' export business even come to a standstill. The cooperation was significant for Hongtu. The successful delivery of the tankers fully demonstrates the customer's high recognition of Hongtu's product service level, technical strength and product quality.
As a global enterprise, Hongtu's overseas business has always been one of the most important business segments of the company. Over the years, Hongtu has accumulated lots of channels and customer resources and get a good reputation in the overseas market, especially the "excellent fabrication and high quality service" makes "HONTO"brand become a beautiful business card for many "Belt and Road" countries and regions.
Despite the epidemic, the company has seen a significant drop in the number of orders signed this year compared to last year. However, we believe that in the coming year, with the gradual improvement of the epidemic situation at home and abroad, Hongtu will see a peak in the exports once again, to add to the glory of CIMC's export business and make Hongtu's tankers a beautiful sight in more parts of the world.