High Quality Nourish Customer Loyalty
2021-01-09 48
Lapse of time is unveiled in flower's blooming and withering. Elapse of season is revealed by the transition from spring to autumn. In a blink, it turns to be late autumn as the poem said "the South Mountain and autumn breeze; vie to be more sublime and high."
In the past few days, there were 7 units of silvery LPG semi-trailer at Gate NO. 2 of Hongtu factory waiting in line to be delivered to overseas client. That client has a long-time cooperation with Hongtu, who previously ordered a batch of LPG semi-trailers from Hongtu. It's because of the good experience of Hongtu products that enabled the customer to overcome the difficulties of the epidemic and order another 7 sets of products through the network remotely.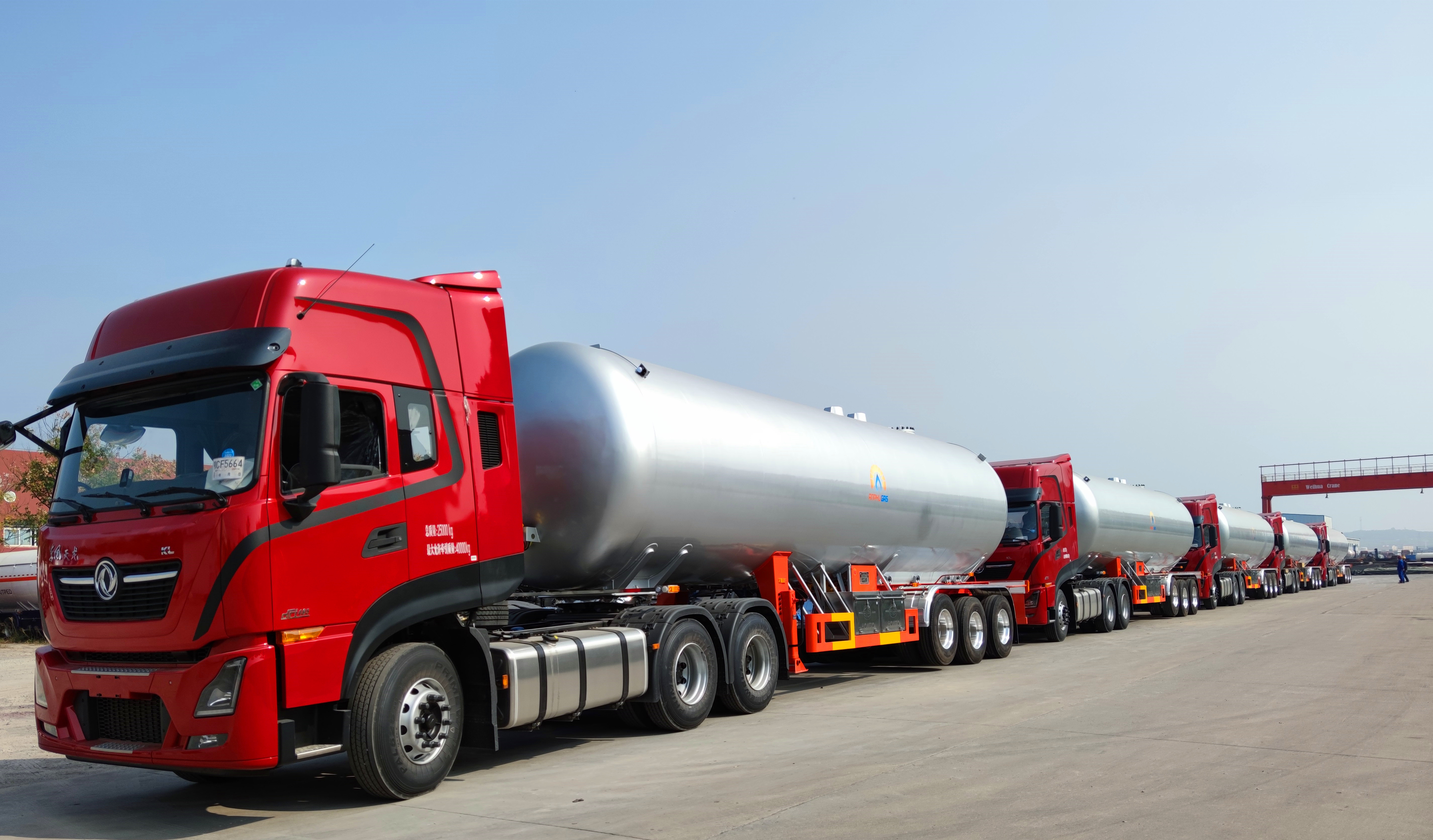 Pic. 1-LPG Semi-trailers waiting in line for delivery
In recent years, the exporting business of Hongtu has expended tremendously, which is not only due to the excellent quality of its products and the good customer experience, but also for the comprehensive and attentive services provided by its overseas department. This time, since the client could not come to the company to discuss business face to face, the foreign trade staff of the overseas business department needed to communicate very patiently with each step of the contract signing, product manufacturing and delivering. To keep client informed of the progress and status of manufacturing, they even have to take pictures of the manufacturing progress every day and send them to clients, so that clients know the schedule of manufacturing fairly well.
Previously, there was a time in April, when an African client raised a special request to add a safety rope on the product liquid phase hose, which is a personalized configuration. While it is difficult for the procurement department to select a capable supplier, in order not to delay the product manufacturing progress, the young salesperson Ms. Deng proactively searched a lot of Taobao online shops, and she finally found a suitable counterpart and purchased promptly at her own expense. In regards to cordial service provided, Ms. Deng is only an epitome of these dedicated foreign trade salespersons in Hongtu.
The 7 sets of semi-trailers moved slowly out of the factory and disappeared from sight. However, successful delivery doesn't mean the completion of this transaction. For Hongtu, high quality service will be provided continuously to ensure customer satisfaction. We, as a reliable partner, will always strive for satisfying customers' needs by providing both high quality products and cordial service.
Pic. 2-HONGTU LPG semi-trailer waiting for passing border