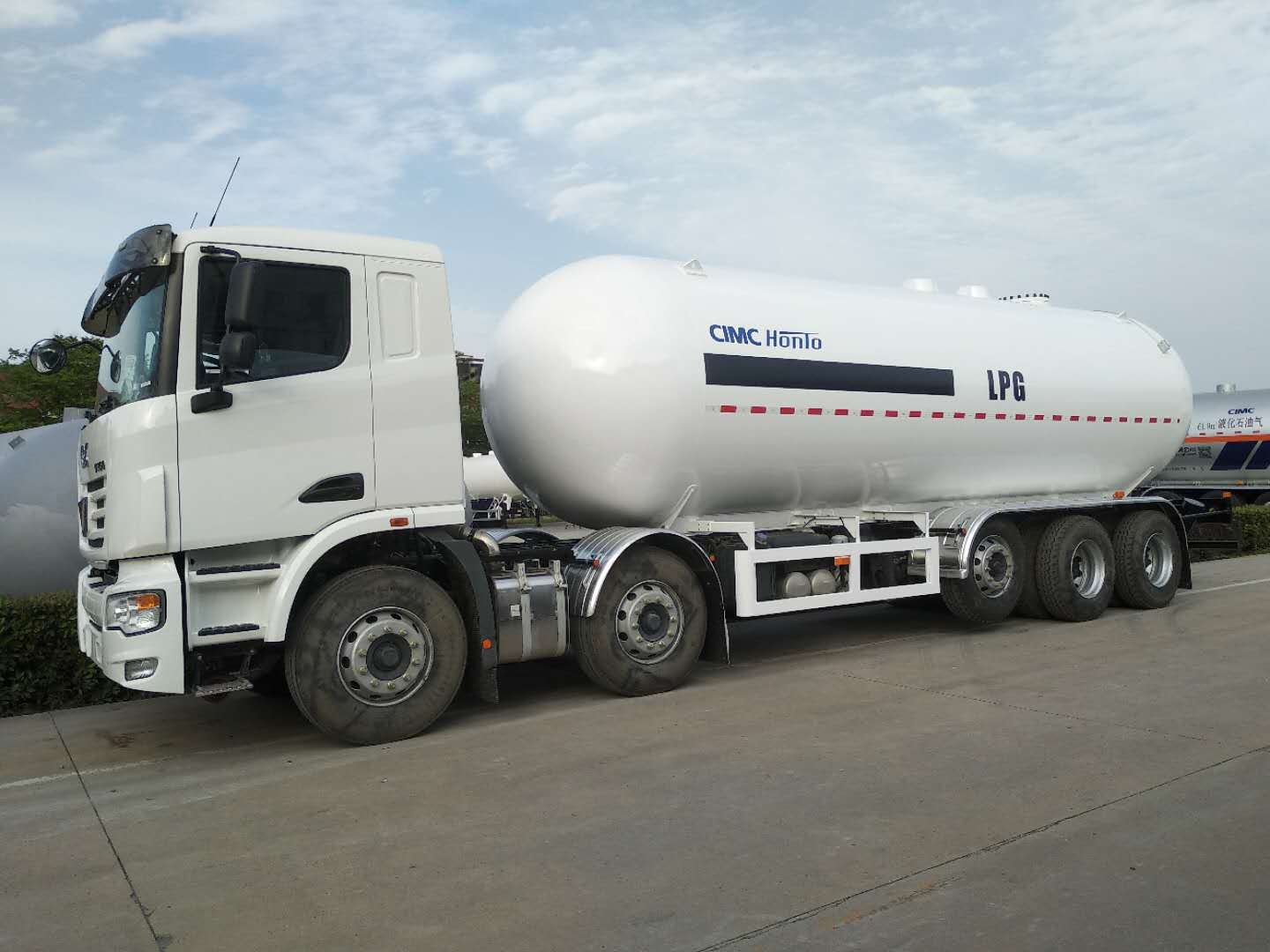 35CBM LPG Road Tanker with C&C Chassis Exported to Vietnam(LPG Vehicle)
Jingmen Hongtu Special Aircraft Manufacturing Co., Ltd (hereinafter called HONGTU, and branded as HONTO) has made prominent contributions to the development of China's aviation industry since established in 1971 as the AVIC Corp II factory No. 322. Now, Hongtu as a key enterprise under China International Marine Containers (Group) Ltd. (CIMC) (ranked the 68th in China's Top 500 businesses), is engaged in R & D of normal temperature storage & transportation equipment, cryogenic storage & transportation equipment, EPC services, chemical equipment and other types of energy chemical storage & transportation equipment. The Company has more than 1,300 employees, including approx. 200 R&D professionals, and has workshop area totaling 130,000 m2.
In the 1980s, HONGTU entered into the industry of hazardous chemicals storage & transportation equipment manufacturing based on the advantages of aviation technology, providing customers with individualized and integrated solutions in the fields of hazardous chemicals'storage & transportation, gasification in cities/towns and vehicle/vessel's oil-to-gas transformation.

The Company always leads the development of the industry. The production and sales of "HONTO" Brand LPG tanker has been ranking No.1 in China in the past 36 years. The domestic market share of HONGTO reaches over 60% all along. HONGTU has been engaged in the manufacturing of energy and chemical storage & transportation equipment for over 3 decades and is also China's only LPG full-industrial chain equipment manufacturer and solution provider.

The Company has ASME "U" and "U2" Stamps Qualification and all Chinese National Permits for design, manufacture and installation of various pressure vessels, spherical tanks, urban gas pipeline projects and marine fuel tanks, and has developed and drafted a number of national standards on pressurized and non-pressurized products of China.

The Company provides global customers and partners with safe, efficient and value-added energy and chemical storage &
transportation equipment under the concept of providing service in the full product life cycle and creating values for customers, through the three-in-one marketing mode of brand communication, product sale and lifelong service, and is committed to become a leading competitive supplier with in the field of global energy chemical industry.

"HONTO" brand LPG storage and transportation equipment has been distributed to more than 40 countries & regions in North America, South America, Southeast Asia, South Asia, Middle East and Africa, etc.
Main Specification

| | | | |
| --- | --- | --- | --- |
| MODEL | SQR1400D6T8 | STANDARD | GB |
| BRAND | HONGTU | TYPE | LPG Transport Vehicle |
| CURB WEIGHT | 16810KG | MAX. LOADING WEIGHT | 17160KG |
| DESIGN TEMPERATURE | 50℃ | DESIGN PRESSURE | 1.77MPA |
| CHASSIS MODEL | SQR1400D6T8-E | WHEEL BASE | 1950+3995+1350+1350MM |
| CURB WEIGHT OF CHASSIS | 10500KG | DIMENSION OF CHASSIS | 12200X2500X3250MM |
| FRONT WHEELBASE | 2040MM | REAR WHEELBASE | 1930/1860MM |
| ENGINE MODEL | YC6K1035-50 | RATED POWER | 258KW/1900RPM |
| MAX TORQUE/SPEED | 1600N,M/1300RPM | MAX NO-LOAD SPEED | 2100±40 |
| GEARBOX MODEL | 12JSD160T | TIRE | 12R22.5 |
| ALLOWABLE TILT ANGLE | TRIM≤20° HEEL≤15° | INSTALLATION ANGLE | 3.5° |
| APPLICABLE ALTITUDE | 2000KM | DIESEL ENGINE SERVICE TEMP. | (-32~45)℃ |