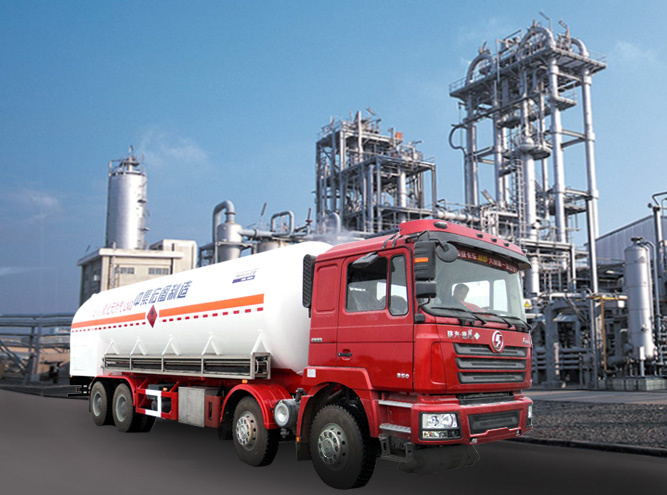 HT5310GDYT1 Cryogenic liquid tank truck(LNG Vehicle)
CIMC·Jingmen Hongtu Special Aircraft Co., Ltd. has 30 years experience in the design and manufacturing of storage and transportation equipments for liquefied gas and dangerous chemicals. The company has participated in the compiling of National TSG R0005-2011 Mobile Pressure Vessel Safety Technology Supervision Regulation and GB 18564.1-2006 Liquid & Dangerous Goods Transport Tank Vehicle Standards.
The company has developed 62 models of liquefied gas transport vehicle which features more than 30 patented technologies. For 20 years, the production and sales volume always ranks the first in domestic market, and the products have been exported to more than 40 countries and areas.
Based on the light weight LPG tank truck technology and cryogenic manufacturing technology, Hongtu liquefied gas tank truck adopts unique patented vacuum interlayer pipeline technology and partial reinforced external vessel structure, as well as advanced finite element analysis and light weight technology, featuring the highest curb weight and charging capacity among similar products in domestic market. The product provides efficient, safe and reliable transport, good heat insulation effect, and stable performance, and all its technical performance indexes are higher than current national standards.
Technical Parameters
Model
HT5310GDYT1
Batch No.
261
Brand
Honto
Type
Liquefied gas transport vehicle
Rated weight
7668
Gross weight
31000
Curb weight
23137
Fuel type
Diesel
Emission standards
GB17691-2005(IV) GB3847-2005
Approach/departure angle
12月28日
Front/rear suspension
1525/2555
Total length
11855
Total width
2490
Total height
36,003,720
Max. speed
77
Passengers allowed in the driving cab
3
Note
Tank dimension(diameter×length): Φ2216mm ×7498mm. Tank volume 20m3.
The storage media is LNG, item no. 2.1, filling ratio 402 kg/m3.
The protection device is made of Q235 steel (side protection is bolted on the tank, and the real lower protection is welded on the chassis frame). The size of the rear lower protection device (section height × width: 100mm×80mm, ground clearance 500mm.
The total height of the vehicle is 3720mm when it uses high roof cab.
The vehicle is mounted with GPS tachographs and the front wheels are mounted with disc brake, and only mounted on the radial tires on the chassis.l tires on the chassis.
ABS system : Guangxi Kormee CM6XL-6S/6K(6S/6M).