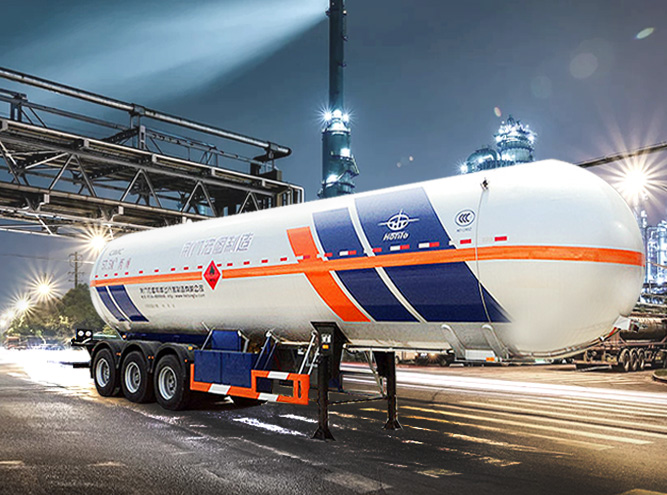 HT9407GYQ1C Liquefied gas tank semi-trailer(LPG Vehicle)
CIMC·Jingmen Hongtu Special Aircraft Co., Ltd. has 30 years experience in the design and manufacturing of storage and transportation equipments for liquefied gas and dangerous chemicals. The company has participated in the compiling of National TSG R0005-2011 Mobile Pressure Vessel Safety Technology Supervision Regulation and GB 18564.1-2006 Liquid & Dangerous Goods Transport Tank Vehicle Standards. The company has developed 62 models of liquefied gas transport vehicle which features more than 30 patented technologies. For 20 years, the production and sales volume always ranks the first in domestic market, and the products have been exported to more than 40 countries and areas.Hongtu liquefied gas transport vehicle is specially used for the road transport of liquefied gas like LPG, propane, propene, liquid ammonia, butadiene, iso-butane, and isobutene. The company has more than 30 core technologies including stress analysis and design, high strength light aluminum alloy weather board made of aeronautical materials with military manufacturing technology, wholly embedded safety valve, quadrangular outriggers, precision assembly between the tank and the travel mechanism, etc. as well as professional modular manufacturing lines, robot welding, etc. For more than 20 years, the company is always in the leading position and ranks the first in terms of market share in the domestic market.
Technical Parameters
Model
HT9407GYQ1C
Batch No.
268
Brand
Honto
Type
Liquefied gas transport vehicle
Rated weight
2,472,525,000
Gross weight
40000
Curb weight
1,527,515,000
Number of axles
3
Wheelbase
6700+1320+1320,7400+1320+1320
Axle load
-/24000(3 axles in parallel)
Number of spring leaf
-/7/7/7,-/4/4/4
Number of tires
12
Tire specification
11.00R20 12PR,11R22.5 12PR,12R22.5 12PR
Approach/departure angle
-/17.2,-/23
Front/rear suspension
-/1745,-/1250
Front wheel tread
-
Rear wheel tread
1840/1840/1840
Identification code
LKMUM183×××××××××
Total length
13000
Total width
2500
Total height
3990
Max load bearing capacity
16000
Note
Tank volume 57.5m3. Tank dimension: (diameter×length)Φ2496mm×12840mm.
Optional tank: volume 58.14m3, dimension (outer diameter×length): Φ2494mm×12788mm.
The storage media is propylene, item No.2.1, filling ratio 430 kg/m3.
The optional tank's corresponding wheelbase is 7400+1320+1320(mm), curb weight is15000(Kg), rated load is 25,000(kg), rear suspension is 1250 (mm), and the departure angle is 23°. (Please see the pictures for the optional tank and side protection device). Optional tire guard plate, and optional cylindrical box on the tire guard plate.
ABS system : Guangxi Kormee CM2XL-4S/2K(4S/2M)/ Guangxi Sivco XH-GQ4S2M-E01.
The tractor truck is applicable for the dangerous goods semi-trailer.
Side and lower rear protection device are made of Q235A steel, (side protection device is bolted on the tank, rear lower protection device is welded). The size of the rear lower protection device (section height × width: 135mm×80mm, ground clearance 540mm.