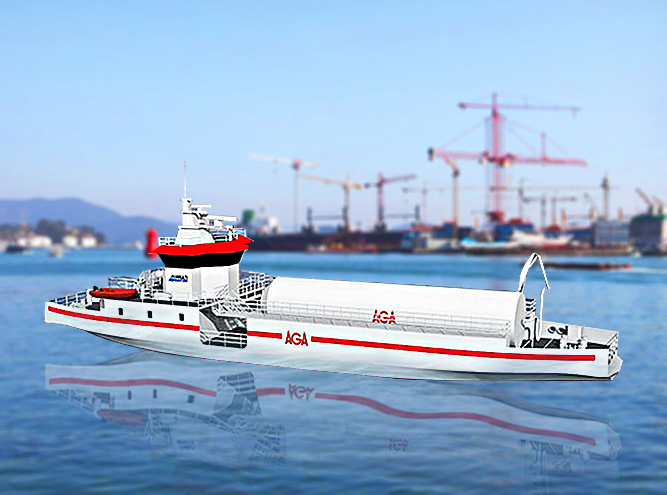 LNG filling boat(Gas Station)
To promote the application of green energy and clean shipping, National Maritime Bureau and National Energy Administration jointly initiated the subject of LNG Boat Fueling Mode and Fueling Station Research in 2012. CCS passed the evaluation on the Liquefied Gas Fuel Filling Boat Standard in July 2015.
China Changjiang Bunker (Sinopec) Co., Ltd. and other related companies have initiated the R&D work on the maritime mobile LNG fueling station.Marine mobile LNG filling boat will provide great convenience for the refueling of LNG boats and ships and will reduce the fuel cost and discharging volume by more than 30%.
Jingmen Hongtu Special Aircraft Co., Ltd. Has signed strategic cooperative agreement jointly with China Classification Society Wuhan Branch to promote the application of LNG in the ship industry. At present, the company has conducted pre-research on the 200m3 maritime mobile LNG filling boat.
| No. | Items | Specification | Note |
| --- | --- | --- | --- |
| 1 | Loa | 40.00m | |
| 2 | Lpp | 37.00m | |
| 3 | Breadth (B) | 7.00m | |
| 4 | Depth (D) | 2.50m | |
| 5 | Designed draft (d) | 1.50m | |
| 6 | Tank volume (V) | 200m3 | |
| 7 | Speed | 16Km/h | |
| 8 | Cruising ability | 1000Km | |