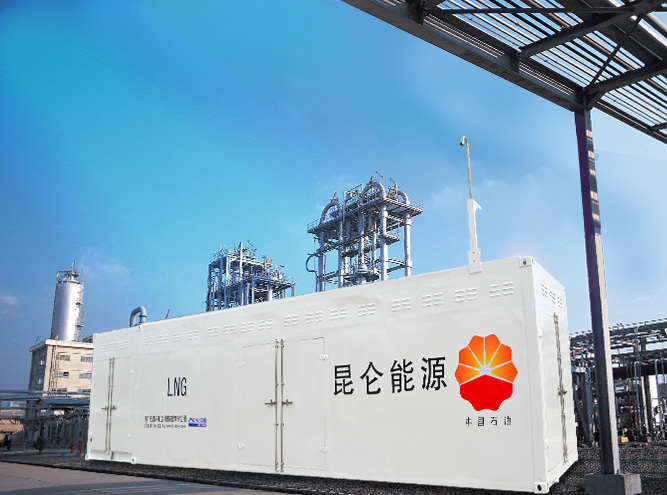 Skid-mounted LNG fueling station(Gas Station)
Skid-mounted LNG fueling station consists of skid mounted pump and control room, including vacuum storage tank, LNG cryogenic pump, LNG dispenser, pipe valves, instruments and electronics system, skid mounting structure, control system, etc.
Main advantages:
① Flexible, small land occupation; Independent from natural gas pipeline network by using LNG gas tank; All the equipment are mounted on the skid-mounting device which has small size and is convenient to transport; The control system is mounted inside a refitted container; It uses high vacuum multilayer heat insulation storage tank, which maximally improves the storage and fueling capacity. It can be mounted anywhere in the city according to market needs.
② Safe, environment-friendly, low energy consumption, integrated design, less cryogenic pipeline, less BOG emission, and it reduces resources needed.
③ High automation and easy operation with the automatic control system, including data collection, flammable gas detection, overpressure stop and low pressure start features.
Type
Common fueling station
Skid-mounted fueling station
Riverbank fueling station
Performance & Parameters
Daily fueling capacity(Nm³)
20000~90000
20000
20000~120000
LNG tank volume(m³)
≤180
60/30
≤250
Tank design pressure(MPa)
1.44
1.44
1.44
System design pressure(MPa)
1.92
1.92
1.92
Power requirements(KW)
22~50
22~35
22~50
Vehicle/boat fueling speed(unit/hour)
10~35
10~20
2~6
Dispenser measuring precision(%)
1
1
1
Main Configuration
Number of storage tanks
1~3
1
1~2
Number of dispensers
1~6
1~2
1~4
Number of immersed pumps
1~3
1~2
1~3
Control system
PLC
Security system
Flammable gas, flame alarm and ESD protection