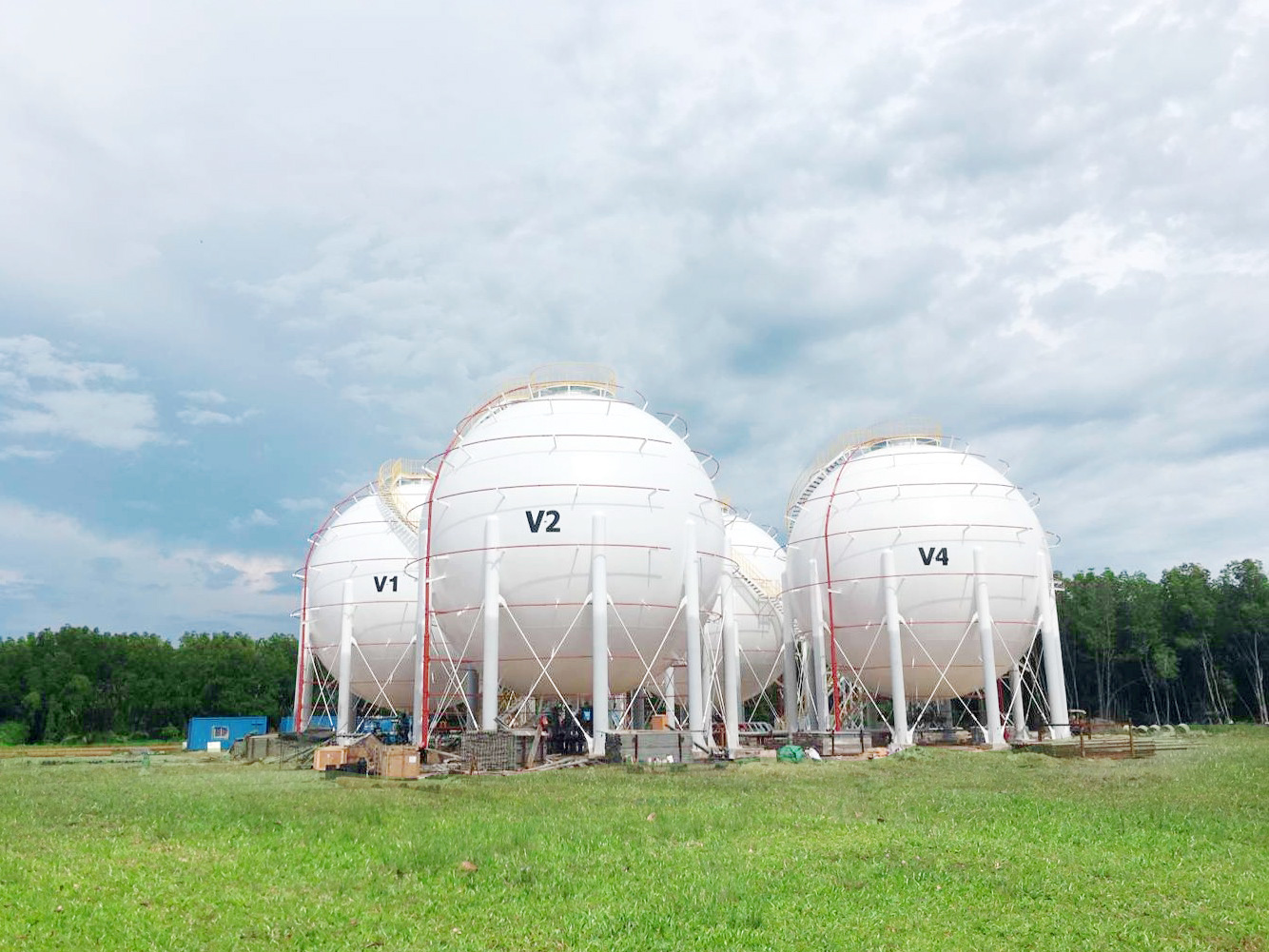 200m³~10000m³ Spherical Tank(Storage Tank)
CIMC·Jingmen Hongtu Special Aircraft Co., Ltd. has gained the certification of ISO9001 quality guarantee system and CCC certification, and all the qualifications for the design, manufacturing and installation of spherical tanks. The company also has gained the licenses for the design, manufacture, installation and testing of A1, A2, A3, C2, C3 pressure vessels, and ASME(U, U2) certificate. With a special spherical cover plant, a 2,000 ton press with 8 meter span and various models of mould, the company can manufacture 200m3~10,000m3 spherical tank of various materials and provide related pipeline design and installation services.
As the key support for the energy and chemical equipment of CIMC Group, the company has taken multiple large spherical tank projects all over the country with strong technical strength and rich experience in manufacturing and installation, and has won the recognition of customers and industry experts. The company has occupied a large percent of the spherical tank market in multiple regions in China.
We provide excellent services for customers in the fields of petroleum, petrochemical, metallurgy, chemicals, urban construction and LNG.
| | |
| --- | --- |
| Spherical shell materials | Q345R(16MnR)、16MnDR、Q370R(15MnNbR)、07MnCrMoVR、CREVSELSO34SS、VN10N36NB、SPV36N、SB36FAK、SJA37、SA537CL.1、SA537CL2、SPV355N、A516GY70、20R、0Cr18Ni9 |
| Spherical shell thickness | 16mm、18mm、20mm、22mm、24mm、26mm、28mm、30mm、32mm、34mm、36mm、38mm、39mm、40mm、42mm、43mm、44mm、46mm、48mm、49mm、50mm、52mm、54mm、56mm |
| Storage media | LPG、Oxygen, nitrogen, argon gas, natural gas, compressed air, liquid ammonia, liquid nitrogen, ethylene, chloroethylene, and propylene, fine propylene, rough propylene, and butadiene, isobutene, propane, and carbon four and carbon five, liquid dimethyl ether, liquid carbon dioxide, chloromethane, and organic silicon monomer, ethylene oxide, silicon tetrachloride, trichlorosilane, and difluorochloroethane. |