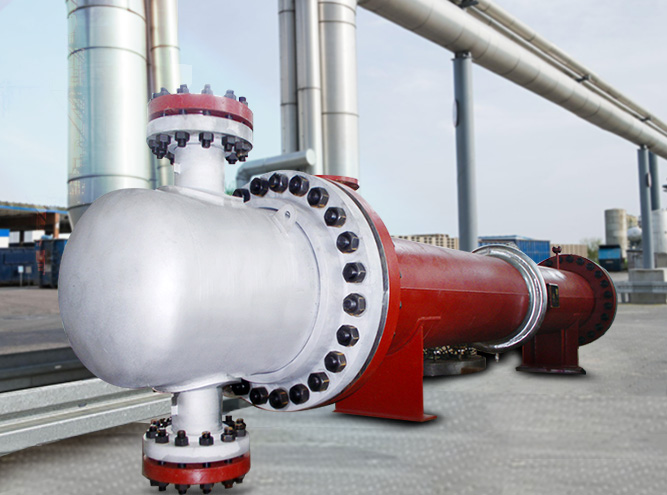 Chemical Vessel(Storage Tank)
CIMC·Jingmen Hongtu Special Aircraft Co., Ltd. Is mainly engaged in the investment in the energy and chemical industry enterprises and the manufacturing and installation of high-end equipment. The company has gained the licenses for the design, manufacture, installation and testing of A1, A2, A3, pressure vessels, and ASME(U, U2) certificate, qualifications for the installation of pressurized pipelines, and ISO9001: 2008 quality management certificate. The company can provide non-standard chemical equipment like heat exchanger, tower, reaction vessel, nonferrous metal made vessels, high pressure fatigue equipment and various storage vessels. The company has successively developed pressure vessel products made of various materials like 15CrMoR(H), 12Cr1MoVR high temperature resistant steel, TA2、TA3、304、316L、310、5083 nonferrous metals, stainless steel and composite materials, which have been widely used in the fields of LNG, petroleum, petrochemical, chemicals, metallurgy, medicine, foods and fertilizer. Our products are very popular both at home and abroad.
Heat exchanging vessel
The company is a professional manufacturer of various tubular heat exchangers, especially exchangers of stainless steel or non-ferrous metal materials. We mainly provide exchangers of fixed plate/tubular type, U-shaped tubular type, floating head type, stuffing box type and kettle-type reboiler. At present, we are capable of manufacturing exchanger of DN≤3000mm and PN≤35MP.
Special materials vessel
The company manufactures various kinds of vessels made of nonferrous metals like titanium, nickel, zirconium, aluminum, etc. including various tubular heat exchanger, tower, reactor, stirred tank, and various storage vessels, which are widely used in multiple fields like chlorine and alkali chemicals, fine chemicals, salt production, medicine and foods.
Storage vessel
The company is a professional manufacturer of various medium-sized and large storage vessels. The common storage tank is of 300m3. Our products can be used for the storage of all the media in various fields like petroleum, chemicals and energy, and can be adapted to extreme temperature conditions at - 196℃, -70℃ and 500℃ above, with storage pressure up to 100MPa.
Tower and other vessel
The company mainly provides plate tower and packed tower products, which can be widely used in the fields of chemicals, petrochemicals, oil refining, etc.
| Type | Model | Volume (m³) | Working Pressure (MPa) | Dimension (Diameter*height)(mm) | Net weight (kg) |
| --- | --- | --- | --- | --- | --- |
| Vertical | CFL-30/0.8 | 30 | 0.8 | ᶲ2500*13200 | 14400 |
| Vertical | CFL-30/1.2 | 30 | 1.2 | ᶲ2500*13200 | 16000 |
| Vertical | CDL-30/1.2 | 30 | 1.2 | ᶲ2350*11500 | 13800 |
| Vertical | CFL-50/0.8 | 50 | 0.8 | ᶲ3000*12830 | 22000 |
| Vertical | CFL-60/0.8 | 60 | 0.8 | ᶲ3000*15100 | 22800 |
| Vertical | CFL-60/1.2 | 60 | 1.2 | ᶲ3000*15100 | 25500 |
| Vertical | CDL-60/1.2 | 60 | 1.2 | ᶲ3000*14853 | 22500 |
| Vertical | CFL-100/0.6 | 100 | 0.6 | ᶲ3500*17175 | 37180 |
| Vertical | CFL-100/0.8 | 100 | 0.8 | ᶲ3500*17175 | 40180 |
| Vertical | CFL-150/0.72 | 150 | 0.72 | ᶲ3700*22055 | 54550 |
| Vertical | CFL-150/0.8 | 150 | 0.8 | ᶲ3700*22055 | 55050 |
| Horizontal | CFW-30/1.2 | 30 | 1.2 | ᶲ2600*10708 | 16800 |
| Horizontal | CDW-30/1.2 | 30 | 1.2 | ᶲ2300*10588 | 13700 |
| Horizontal | CFW-50/0.8 | 50 | 0.8 | ᶲ3250*10650 | 22000 |
| Horizontal | CFW-60/1.2 | 60 | 1.2 | ᶲ3000*14465 | 28400 |
| Horizontal | CDW-60/1.2 | 60 | 1.2 | ᶲ3000*14465 | 22500 |
| Horizontal | CFW-100/0.6 | 100 | 0.6 | ᶲ3500*16980 | 36000 |