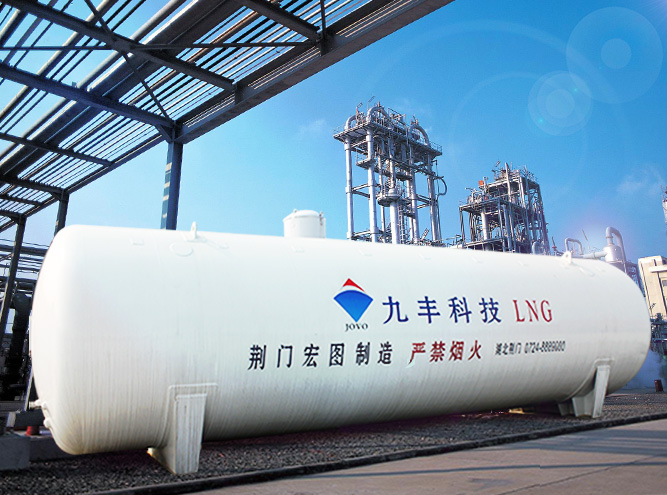 LNG Storage Tank(Storage Tank)
Cryogenic liquid tank is specially used for the storage of LNG. It is a kind of special equipment that has great significance to public security. To achieve the desired effect in thermal insulation, the tank's thermal insulation structure adopts high-vacuum multilayer insulation or vacuum powder insulation. The storage tank consists of inner vessel and shell. The inner vessel is mainly made of austenitic stainless steel S30408 which has outstanding cryogenic performance; and the outer shell adopts Q345R steel plate which is specially made for pressure vessel; The vacuum layer between the inner and outer wall is filled with dried expanded perlite (pearlife) or the inner vessel is covered with heat insulation composite paper, and the vacuum layer is also made degreasing, rust removal, rinsing and drying treatment strictly in accordance with related standards, which guarantees the vacuum degree in the interlayer when the tank is sealed. Through reasonable structure design and sophisticated manufacturing technology, the heat insulation performance and the service life of the tank has reliable guarantee. The design, fabrication, inspection and acceptance fully meet the Safety Technology Supervision Regulation of Stationary Pressure Vessel, provides strong guarantee for the safe use of the equipment.
Featuring reasonable structure, large capacity, high safety and reliability, easy operation, and convenient maintenance, it is an optimal equipment specially for the storage of cryogenic LNG.

| Type | Model | Volume (m³) | Working Pressure (MPa) | Dimension (Diameter*height)(mm) | Net weight (kg) |
| --- | --- | --- | --- | --- | --- |
| Vertical | CFL-30/0.8 | 30 | 0.8 | ᶲ2500*13200 | 14400 |
| Vertical | CFL-30/1.2 | 30 | 1.2 | ᶲ2500*13200 | 16000 |
| Vertical | CDL-30/1.2 | 30 | 1.2 | ᶲ2350*11500 | 13800 |
| Vertical | CFL-50/0.8 | 50 | 0.8 | ᶲ3000*12830 | 22000 |
| Vertical | CFL-60/0.8 | 60 | 0.8 | ᶲ3000*15100 | 22800 |
| Vertical | CFL-60/1.2 | 60 | 1.2 | ᶲ3000*15100 | 25500 |
| Vertical | CDL-60/1.2 | 60 | 1.2 | ᶲ3000*14853 | 22500 |
| Vertical | CFL-100/0.6 | 100 | 0.6 | ᶲ3500*17175 | 37180 |
| Vertical | CFL-100/0.8 | 100 | 0.8 | ᶲ3500*17175 | 40180 |
| Vertical | CFL-150/0.72 | 150 | 0.72 | ᶲ3700*22055 | 54550 |
| Vertical | CFL-150/0.8 | 150 | 0.8 | ᶲ3700*22055 | 55050 |
| Horizontal | CFW-30/1.2 | 30 | 1.2 | ᶲ2600*10708 | 16800 |
| Horizontal | CDW-30/1.2 | 30 | 1.2 | ᶲ2300*10588 | 13700 |
| Horizontal | CFW-50/0.8 | 50 | 0.8 | ᶲ3250*10650 | 22000 |
| Horizontal | CFW-60/1.2 | 60 | 1.2 | ᶲ3000*14465 | 28400 |
| Horizontal | CDW-60/1.2 | 60 | 1.2 | ᶲ3000*14465 | 22500 |
| Horizontal | CFW-100/0.6 | 100 | 0.6 | ᶲ3500*16980 | 36000 |