Celebrates the Spring Festival, Welcomes a Good Start-Jingmen Hongtu 30 LNG Semi-trailers Shipped to Nigeria
2022-02-07 23
The new year has come and everything is renewed. In this beautiful moment, facing the first ray of sunshine in the new year, we bid farewell to 2021 and ushered in a new 2022. In the fierce market competition, the Hongtu brand, which is user-centered and has a good reputation, ushering in a good start to the new year. On February 7, 2022, 30 LNG semi-trailers painted in white slowly drove out of the factory area and smoothly embarked on the long journey to Nigeria.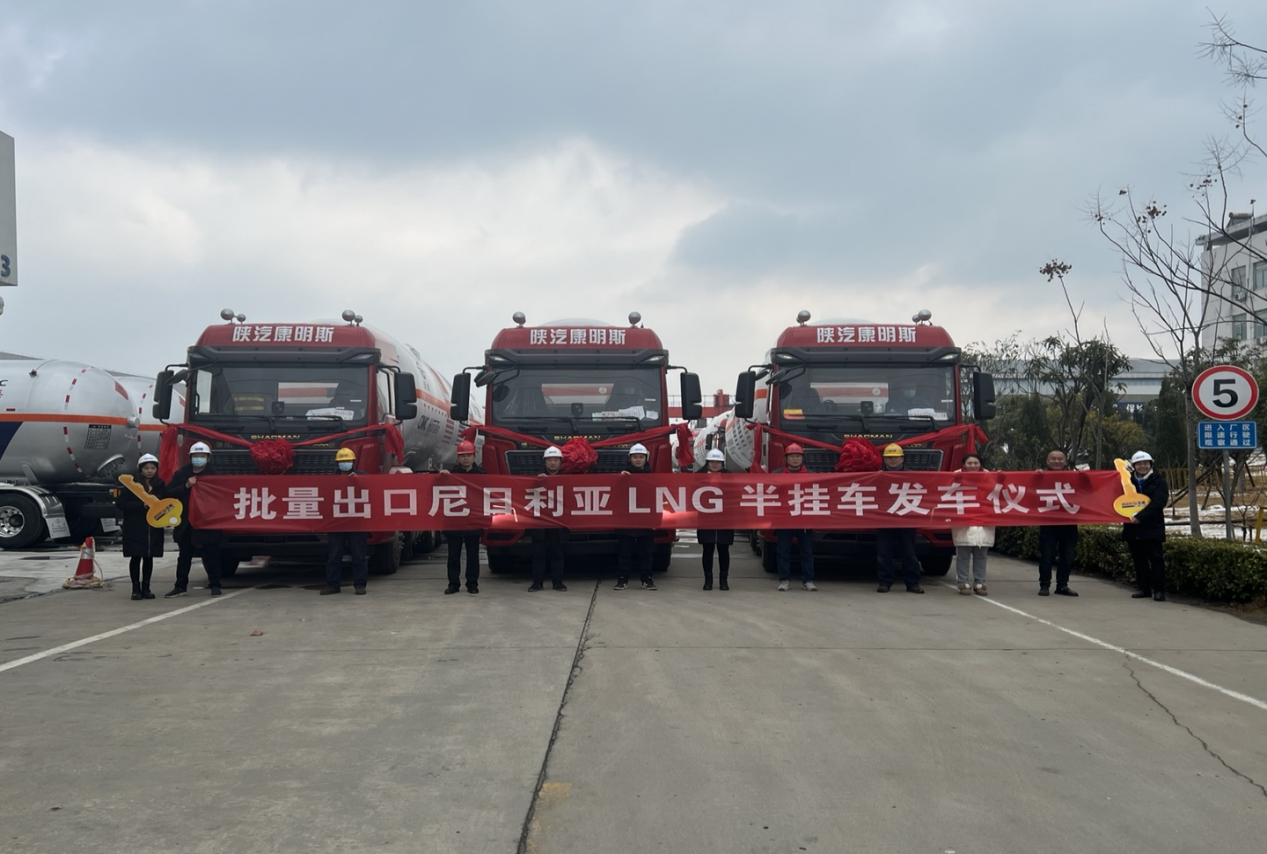 The customer of this batch of products is local well-known natural gas company in Nigeria and old customer of CIMC ENRIC. With the joint efforts of Enric Energy Equipment and Engineering Business Center and Jingmen Hongtu, Hongtu finally won the recognition and trust of the customer with excellent product quality, good after-sales service and guaranteed brand, and secured order of 30 LNG semi trailers at one time.

Unity is strength, working together is success. Although it is the occasion of the arrival of the Chinese traditional Lunar New Year Festival, in order to meet the delivery requirements of customer with tight time and heavy tasks, all departments have held meetings for many times to deploy work, carefully organize and scientifically arrange. In order to catch up with the production progress, the workshop leaders led the front-line employees to work overtime. Even during the Spring Festival holiday, it is necessary to ensure that the task is completed within the time node required by the client. Despite the difficulties, under the joint efforts of all departments of the company, we overcame the troubles such as snow and cold, tight delivery time and so on, and made concerted efforts.Under the premise of "safety first, quality first", we ensured the orderly development of production and realized the on-time delivery of products.
As an enterprise facing the global market, Hongtu has not only gained popularity in China, but also won a good reputation in overseas markets. Its products are exported to 42 countries and regions such as Europe, the Middle East, South America, Southeast Asia and Africa.Over the years, with the goal of "excellence craftsmanship, first-class quality, and high levels of customer's satisfaction", we have kept pace with the times, worked hard, and made steady progress to create Hongtu's unique superior products. We will continue to provide first-class quality to win the trust of more customers around the world.
The road is obstacle-packed and long, but you will get through if you keep going. We firmly believe that with the gradual improvement of the epidemic situation at home and abroad, Hongtu's export products will usher in a new breakthrough in 2022, create a new export record, add luster to CIMC's export business, and let Hongtu trailers shine around the world.